This was the left eye. Right!
---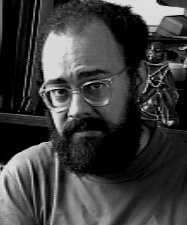 This picture was taken before I went to jail. In fact, I've never been to jail, so far. The photo was shot before my eye surgery, which should allow me to abandon those glasses. The surgery took place on the 12th of July, 1996. A device called Excimer Laser was used. My vision is not 100% recovered yet. But soon it shall be.
These Web pages were produced using Microsoft FrontPage 2.0 which, I have to say, is a hell of a program.
And here is my PGP public key, certified by God Himself:
Type Bits/KeyID    Date       User ID
pub  1024/623E006D 1993/04/11 Carlos Alberto Teixeira <cat@icad.puc-rio.br>
sig       623E006D             Carlos Alberto Teixeira <cat@icad.puc-rio.br>
sig       5F115B21             Kari J. Salomaki <salomaki@jyfl.jyu.fi>
sig       C7A966DD             Philip R. Zimmermann <prz@acm.org>

-----BEGIN PGP PUBLIC KEY BLOCK-----
Version: PGPsdk 2.0.1 Copyright (C) 2000 Networks Associates Technology, Inc. All rights reserved.

mQCNAivITDkAAAEEAO0aVAqWlM36h2lYLZAw8z+r59QY2MqnPdF0nbS3A2t/z6pN
OwG9+G2+p4Kq+t1NLDD2CotGx6dfIw2S2VbQRv8aUn0HFwwOpfXVSNhzKpnEJsW4
IhUoMbapk+PwzEg6Y0blSkLDIYi554m74faXLp4CzJOgM4nDeyRVeV1iPgBtAAUR
tC1DYXJsb3MgQWxiZXJ0byBUZWl4ZWlyYSA8Y2F0QGljYWQucHVjLXJpby5icj6J
AEYEEBECAAYFAja8ThUACgkQgVEYJXJWKJy15QCdGaht3n2fK9BOTv6WnSsRvn4H
srAAoLcOsKgWgNYWg8akncSusCT9hAPpiQCVAgUQK8pS+7YiGxDDAZD3AQE7ZAP/
ZYtjkgwof0RMaVOmcH4n9d99cssu5OAarpsd7EEwKPr2o+KyjCaaKyJR0tNmN5b6
2MCvAoFqHh3Y9j5L7zfAe3XDBfL92XXwdcC3fFtjSGFcf2120XbV9relfAFnS4wx
bvN2VzGJhgQfzpQYWu07uTOwpAgztna6rf5zEnBmu2iJAJUCBRAuNez8JFV5XWI+
AG0BARjbBADih2y7LEmgpk2y2TnnHLznRT9Vgn7oKKzZtuxrUFLKUNlQv3nbSl26
Zy+mmyH/UJAeG7yytaZl/68K3oaBYDCJFivy/tIidpNot8+0yUmbRaAS9l4ILBSB
+byWCHpKY+AUldX4UHSncV4PBp90Z+p6lGv+Apmxz30vINgXXNppN4kAlQIFECyO
C/tX5dFPXxFbIQEBbfwD/Rknz3wYaAvNoblMllpK4HqV37XrqC5I6NJQaa5kgek+
848y4cxeiSIpRid2WpJgX0pz1wXZvAJrZebB6PCDefMqm/Ec++uhukFU0sj+HtJL
OUAV5uvDLmWOyq/J7I8u5cLKvw3o7wMaSqxvGR76wHescAbLZEcHG+XAgHSKbhbp
iQCVAgUQLIjW+mV5hLjHqWbdAQFwvwQAnkEHwHRambDVVYpCHp06MfBKD7Ys4H1A
94Gww3LmHRdf+RBiB585PDBU2ZfAVt92GwLxzJk7gAHYyWmqZHZqktiWqZdzw7eT
qPj8B9WempbiPJLmgihuA05Eeb8w5laJqTq/Vnxm+TucsfkK0Z6BRd+P1mSkiGz5
DsP6xMIZUjg=
=POzj
-----END PGP PUBLIC KEY BLOCK-----
---