Left eye? Ha!
---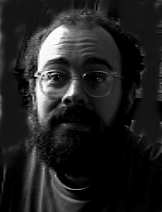 In fact you clicked my right eye. It is the left one from your point of view and ... well, never mind.
This is C.A.T. speaking, Carlos Alberto Teixeira, born with age zero in Rio de Janeiro, Brazil. (Some say, with age = nine months, but who can be sure?) I plan to post a resumé somewhere in the Web, one day. But for now, simply click here to return.
Click on the picture and visit the homepage of the artist who shot this photo at his studio, a good friend indeed: Silva Costa.
---